Buying a bathroom suite can be a big investment, so it's important to choose the one that's right for you. With so many choices of suite, not to mention individual pieces, it can be easy to feel overwhelmed.
Consider what you need
One of the first questions to ask yourself is what units you need in the bathroom. Not everyone wants or needs the same units in every bathroom. If you never take baths, consider only installing a shower unit, and vice versa. If you are adding a cloakroom, you'll likely only need a toilet and basin, and might not need a storage cabinet at all. This will help you choose a bathroom suite that has the elements you need.
Consider your style
Deciding whether you want a modern or traditional style suite will really help narrow things down for you. Both styles can vary considerably, but in general traditional styles are more ornate while modern styles will feature sleeker lines. Contemporary and modern styles can be a safe choice, with collections such as the Galaxy bathroom suites offering clean lines and good quality materials. Traditional styles, such as the Tudor bathroom suite, feature more decorative accents which are perfect if you're going for a period style.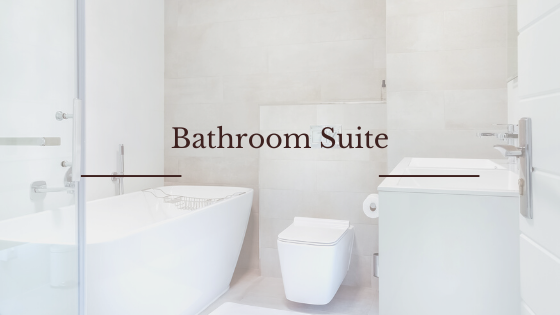 Consider the size
A major part of choosing a bathroom suite will be what size room you have. Most bathroom suites can be used in any size of room, but some might be too big for smaller rooms. There are also shower bath suites specially designed for smaller bathrooms. The Piccolo suite is an example of this, and shows that small doesn't have to mean uncomfortable. With a short projection toilet and basin, this suite offers clean lines and great style for smaller bathrooms.
Consider the users
Another important part of choosing a bathroom suite is to be aware of who is going to be using the bathroom. Special suites are available for people with limited mobility. Given the cost of replacing a bathroom suite, it is worth considering how your needs might change over the life of the bathroom. Adapted bathrooms are comfortable to use and can be a good investment for future use.
Consider your budget
Bathroom suites can be a big investment, so it's important to set your budget. There are great suites available at different prices, so even a lower budget won't leave you without choices. It's often possible to find similar styles at different prices, and different units within the same collection will often vary somewhat. By knowing your budget, you can save yourself time and hassle in choosing your bathroom suite.
All of one, or a la carte
One of the other decisions to make is whether you want to purchase a bathroom suite or individual pieces. By choosing a bathroom suite, you can be certain the pieces look good together. Suites come in various sizes, with many suites having multiple size options within the same design. This can give you flexibility to use a suite for any size of bathroom, or even in multiple bathrooms in your home. Of course, choosing individual pieces can give you more room for creativity. It might cost you more in the end, though. Bathroom suites are available as a set, which will usually be priced lower than the individual pieces.